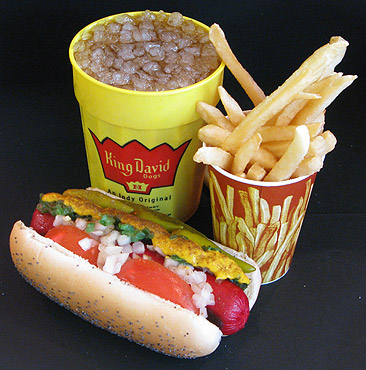 OK, so I'm 68 years late to the game on this one.
BUT!
Tomorrow afternoon, I'm heading over to
King David Dogs
to see what I can see and taste what I can taste. I'll be sampling their stuff as part of Indy's first
TasteCasting
* experience.
A friend on Twitter notified me that King David Dogs produces something called the Boom Boom Dog, which is a hot dog with a fried egg on it. This does not appeal to me in any way beyond curiosity, but being the adventurous sort, I'm going to give it a try. I'll let you know how it goes.
King David Dogs is also known for their tater tots, which I'm really looking forward to trying. And they've also just introduced beer-battered onion rings, which I'll have to try, as well.
Can not wait for Friday lunch!
---
* DISCLOSURE:
TasteCasting
combines socially networked people and the social media platforms and applications they use to help restaurants build awareness, announce grand openings, introduce new menu items, distribute special offers and encourage people to visit the establishment. So, my lunch at King David Dogs tomorrow is on the house. But I promise I'll be sharing my actual thoughts on the experience tomorrow afternoon.